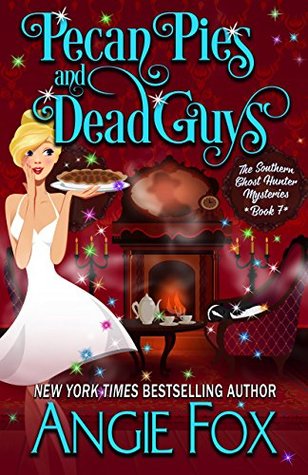 'Sometimes Verity Long would like to forget that she lives with the ghost of a 1920s gangster. But the reluctant housemates must once again work together when a dead detective blackmails Frankie into helping him solve a Great Gatsby-era cold case. Before she can say "bathtub gin," Verity is dragged straight into a raging, otherworldly house party. Worse, every guest is hiding something. '
I loved this 7th instalment of Angie Fox's hugely fun Southern Ghost Hunter series. Verity and Frankie were a brilliant team as always, with some touching moments under all the sniping. We had a murder mystery to solve on both Ghostly and Earthly sides this time as well.
The time spent in the ghostly Adair estate was like stepping into a time capsule, everything was lovingly described without tipping over into too much detail and it evoked a feeling of actually being there.
All our regular players were out in force, Ellis was still an attentive and understanding boyfriend, Virginia was her usual charming self that we love to hate and Beau was fascinating as he went through his 'mid-life crisis' trying to work out who he actually wanted to be.
Catching up with the residents of Sugarland was everything I hoped it would be and I eagerly await Frankie and Verity's next adventure.
If you haven't discovered this series yet and want to catch up the first book is Southern Spirits.
With thanks to Netgalley and Moose Island books for a copy in exchange for review.