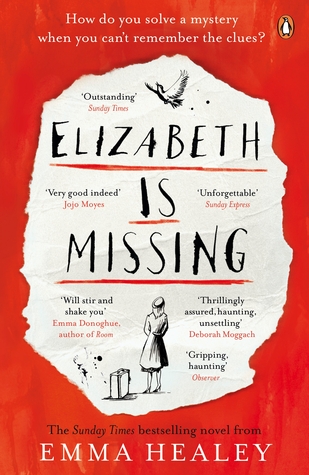 Meet Maud. Maud is forgetful. She makes a cup of tea and doesn't remember to drink it. She goes to the shops and forgets why she went. Sometimes her home is unrecognizable – or her daughter Helen seems a total stranger.
But there's one thing Maud is sure of: her friend Elizabeth is missing.
A thought provoking book that kept me gripped the whole way through. Maud was a likeable character and despite the sadness of her decent into dementia overall the book felt hopeful and full of love rather than weighed down with sadness.

Emma Healey did a great job of taking you along with Maud as she navigated her way through the confusion of every day life, – and back in time to the disappearance of her sister not long after WW2. I really felt for Maud and her family as they navigated their way through everyday life and the Maud's dementia.

A story about family, friends and getting older, told with compassion I would recommend this book.