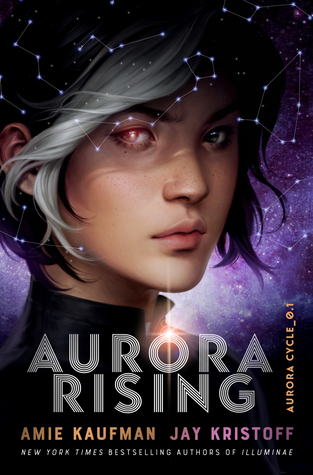 The year is 2380, and the graduating cadets of Aurora Academy are being assigned their first missions. Star pupil Tyler Jones is ready to recruit the squad of his dreams, but his own boneheaded heroism sees him stuck with the dregs nobody else in the Academy would touch…
A cocky diplomat with a black belt in sarcasm
A sociopath scientist with a fondness for shooting her bunkmates
A smart-ass techwiz with the galaxy's biggest chip on his shoulder
An alien warrior with anger management issues
A tomboy pilot who's totally not into him, in case you were wondering
And Ty's squad isn't even his biggest problem—that'd be Aurora Jie-Lin O'Malley, the girl he's just rescued from interdimensional space. Trapped in cryo-sleep for two centuries, Auri is a girl out of time and out of her depth. But she could be the catalyst that starts a war millions of years in the making, and Tyler's squad of losers, discipline-cases and misfits might just be the last hope for the entire galaxy.
Wow! This book had a bit of everything. It was a superb, fast paced space romp with an intergalactic heist, huge monster and creepy plants thrown in for good measure.
The first thing that drew me to this book was the tag – line 'They're not the heroes we deserve. they're just the ones we could find.' It grabbed my interest straight away, in the event I think it was a little mis-leading. Yes, squad 312 were certainly a rag-tag bunch with whole load of issues but they were (sort of) chosen. OK, they were the un-chosen dregs and weren't chosen as such but once formed into a squad the Admiral did appear to pick them for the task they were sent on.
That said I adored squad 312. They were all so unique with their own hang ups and distinct voices. I loved Cat's cockiness and delight in flying. Tyler's instincts and desire to do the right thing. Scarlet's (and Fin's) sarcasm, Zila's quiet contemplation, Kal's internal battles to overcome his instincts and Aurora's dive into a future she never expected to be in.
I loved the way being a Squad meant there was a good reason to have an expert on everything, flying, tactics, computer skills, fighting etc. It didn't feel un-reasonable that they could tackle everything that came their way.
The small touches in this book we're also enjoyable. I adored Megallen the almost-but-not-quite sentient handheld computer who'd pipe up at the most inappropriate of times.
There were certainly heavier bits to this book and some of it was decidedly creepy but it also had great humour and heart. At points I found it reminiscent of The Girl With All the Gifts (not a bad thing) and at others it was a really fun space jaunt. I definitely recommend.
Now I just have to wait for the next one…
With thanks to Oneworld publications and Netgalley for a copy in exchange for an honest review.
Aurora Rising is published 7th May 2019