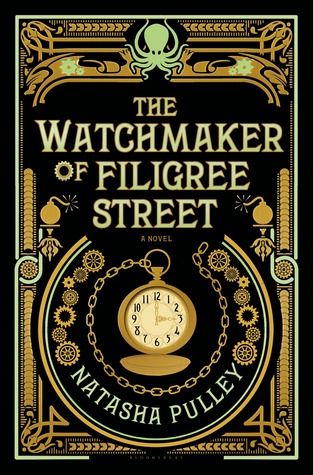 In 1883, Thaniel Steepleton returns to his tiny flat to find a gold pocketwatch on his pillow. When the watch saves Thaniel's life in a blast that destroys Scotland Yard, he goes in search of its maker, Keita Mori – a kind, lonely Japanese immigrant. Meanwhile, Grace Carrow is sneaking into an Oxford library, desperate to prove the existence of the luminiferous ether before her mother can force her to marry.
Another book with a truly stunning cover, this one begs to be picked up and read.
This book is a tour de force, brilliantly crafted and a joy to read. Thaniel is an unusual lead character in that he is quiet and unassuming,
he doesn't leap off the page but instead quietly slides off, however he's no less likeable for that. Mori on the other hand is intriguing and intelligent with his love of clockwork – and his unusual pet, you want to get to know him and work out all his secrets.
With a story that questions destiny and the pre-determination of our lives, a gentle undercurrent of love alongside a dose of magical realism, all wrapped up in a plot to bomb Scotland Yard this book has plenty to keep it's reader occupied.
Difficult to describe and hard not to love, I'd recommend giving this book a read if you haven't already.