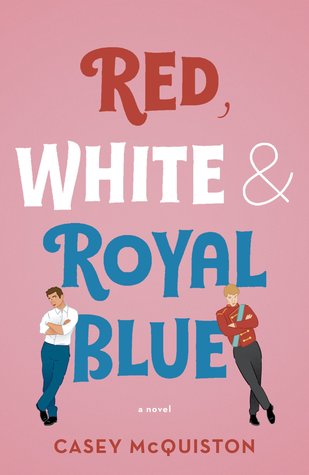 A big-hearted romantic comedy in which the First Son falls in love with the Prince of Wales after an incident of international proportions forces them to pretend to be best friends…
I thoroughly enjoyed this book. It was uplifting, sweet, life affirming and hopeful. 
Red,White and Royal Blue joins the growing ranks of LGBTQ teen fiction being published but I think others will be hard pressed to match this one. 
Alex Clairmont Diaz is the half Mexican som of the sitting female American President when he attends the wedding of Prince Philip heir to the British throne. At the after party he and younger son Prince Henry have an unfortunate encounter with the (very expensive) Wedding Cake.
As both counties set out to do damage limitation in the press the two young men are forced to attend events together. Over time they realise that perhaps they aren't so very different after all.
The romance was well done, the author let an organic relation grow between Alex and Henry via text, email and face to face encounters. She also neatly avoided the insta-love trap that oh so many YA authors fall into. Alex and Henry were likeable principle characters and the supporting cast was strong. It was a brave choice to set the romance in such a political setting but it worked.
My only small gripe (as a British reader) is that I found it rather that the fictional Royal Family in this novel predominantly had names of real-life Royals albeit in different generations of the family for the most part. I'd have found it easier with different names. However that is a small gripe and entirely personal preference. 
If you like YA, romance books or are just in need of a light (for the most part) uplifting you won't go far wrong in picking this one up.
With thanks to St Martins Press for an advance copy in exchange for honest review. 
Red, White and Royal Blue is published May 2019